Houston Mobile Site Design: Helping Your Business Go Mobile
Mobile websites are specifically designed to work on the small screens of a mobile device. These websites are able to target customers when they are on the go; not having a mobile website means that you will lose out to a competitor who does. Here are some of the reasons you should spring for Houston mobile website design with Directory One.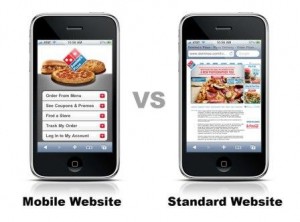 Improved User Experience
Have you ever tried to navigate a regular website on a smart phone? Zooming in and still hitting the incorrect link can be very frustrating, especially when all you want to do is call the business.
Mobile websites are designed to make navigation on a mobile phone simple and effortless. Written content is shortened so that the user can quickly grab the most important parts of the business and make that crucial first contact. Menus are large and easy to press. Most importantly, a quality mobile website will come equipped with map-geo information so a customer can quickly locate your business.
Improved Search Engine Rankings
Google and other search engines can tell when someone is using a mobile phone and adjust their results accordingly. If your website has a mobile version, it will rank higher than websites that do not have a mobile version. This increases your visibility in an increasingly popular search method!
Improves Professional Image
A business that does have a mobile website gives the impression that they are on the cutting edge of internet marketing and customer satisfaction trends. Having an uncluttered, slick mobile website design pumps up the professional image of your business.
Increased Engagement
Having a mobile site means that people can quickly connect to social media profiles on the go. This opens your business up to reviews and interactions with your customers.
One-Up the Competition
If your website is difficult to navigate, many customers will simply give up and go to another website. You do not want to lose potential clients because your website was not designed for mobile phones. Getting a modern Houston mobile site design will give you the competitive edge you need in today's one-the-move society.
Selecting the Right Houston Mobile Web Design Service
Choose Directory One to design your mobile website for you. We not only custom design websites but we can also optimize them so that they rank on the first page of mobile search engine results.
Lure customers in when they are on the go. Call Directory One at 713.465.0051 for Houston mobile web design.