EMAIL MARKETING COMPANY IN HOUSTON
As an email marketing company in Houston we've seen that email marketing, particularly for small businesses, is a proven cost-effective way to grow revenue and attract new customers plus build relationships with your current customers. In fact according to the DMA (Direct Marketing Association), a business spending $1 on email marketing can expect an average return of $42!
Email Marketing Provides Houston Small Businesses Many Advantages
Email marketing is flexible. It provides Houston small businesses many advantages such as:
Low cost with high impact potential
Rapid implementation
Measurability
Testability
New customer or prospect generation
Sale, event or special occasion and services promotions
Appointment scheduling
Online shopping or ordering
Enhanced customer communication
Increased customer loyalty and repeat business
Improved brand awareness
Channel for reputation management
Your email list — building, managing and using it
When you use email marketing, you're not only establishing or strengthening relationships with your customers, you're creating and strengthening a valuable asset for your business — your list. Business owners have learned when selling their business, their email list is considered a valuable, tangible asset if it has been managed properly.
However building, managing and using your email list can be time consuming when you've got a small business to run. And it needs to be done properly. There are no shortcuts. You can't buy a list. You can't create it and forget it. Among many things, it needs to be maintained securely (our experience in managing secure websites makes us Houston's specialists in online security; duplicates need to be eliminated; updated as additions or removals occur; and it must be formatted for multiple uses.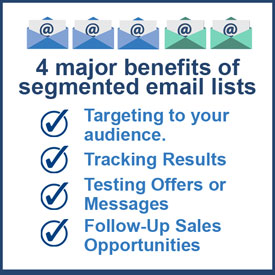 Your Houston small business email list may also need to be segmented
Segmenting your Houston small business email list allows you to tailor your message, offers and information. At Directory One we can help develop the segmentation and even help you write or design segmented messages based upon the identified criteria.
Remember too that an effective email doesn't have to be long or wordy. It's more important you provide interesting or relevant information that your customers or prospective customers will find engaging and beneficial.
Your email also provides an invaluable way to drive traffic to your website or social media where the other important aspects of your business can be explored in greater detail. A segmented list will allow you to direct traffic to targeted pages within your website.
Make Directory One your email marketing company in Houston
Whether you have 500 addresses or 50,000 on your email list, make Directory One your email marketing company in Houston. Our team of professionals and over 30 years of experience means we have the resources to help you develop a successful strategy and see it through to completion. We can help you with any or all of the aspects of email marketing so you can focus on running your business. Turn to us for:
Secure email list management
Content writing and/or editing
Email design/development for all platforms
Distribution
Reporting and analysis
Segmentation and testing
Website and social media integration
Call us now at 713-269-3094 or 713-465-0051 and put the power of economical, effective email marketing to work for your business.