Are Social Networking Sites More Than Just Fun and Games?
April Hall
So, over the weekend I finally completed some work on those MySpace and Facebook pages that I started like a million years ago. I posted some pictures, wrote some comments on friends' pages and began using the "search for friends" tools that are oh-so-addicting. In the middle of catching up with my friends (and applauding myself for staying in relative shape compared to everyone else's recent pictures, in spite of having two kids!), I began to consider how I could best use these two networks to my own professional advantage…. It appears that, as late as I am to the social networking game, I am right on time to my own little networking party.
To get started using MySpace to your best advantage, use the "Find People" navigation menu, then scroll down to the "Search for People with Similar Career Interests" tool. My own menu looks like this: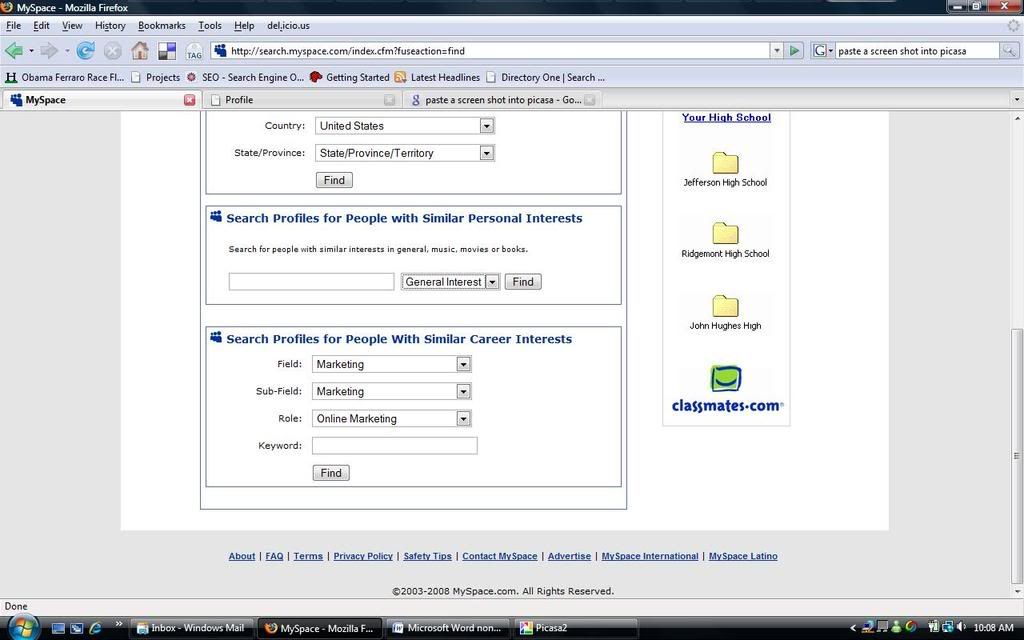 Personally, I want to find people who are involved in internet marketing, perhaps limiting the search to those who are in my local area or maybe choosing a keyword that includes web development or search engine optimization. Once you have narrowed down some potential friends, take a look at their profiles (if they are available to the general MySpace public) and discover if you want to be "friends" with them.
Facebook works in the same general way as MySpace, except for this social networking site is geared mostly towards networking with folks who graduated from your same high school or college. You can also look for fellow employees at your company; however, you will probably have to skim through several potential friend profiles before you find some who work in your same industry: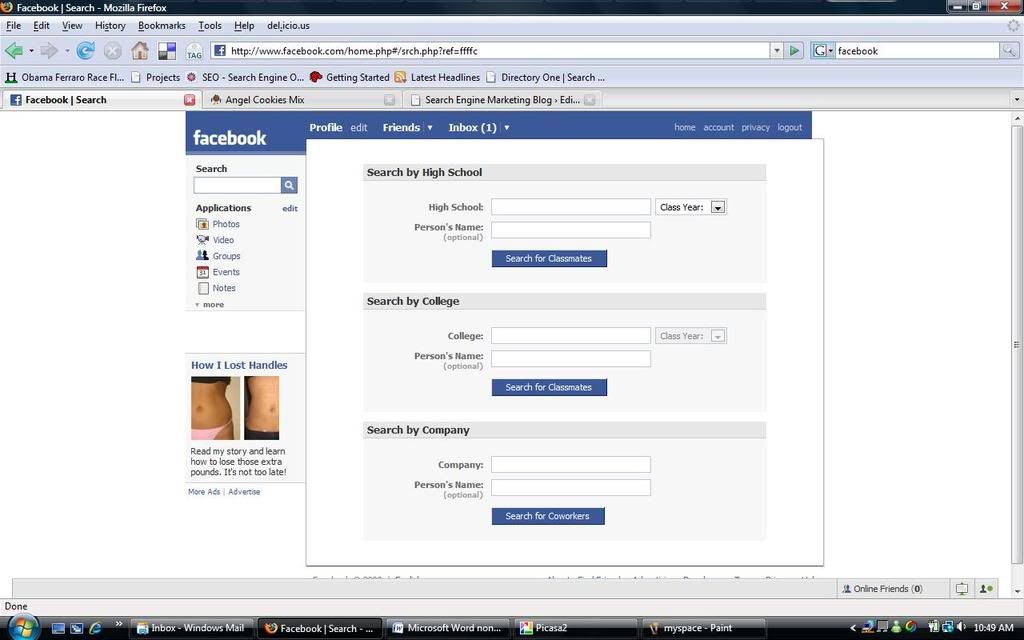 So, while both of these social networking sites can go a long way towards growing your networking contacts, MySpace is probably geared a bit more towards making it easier to find people who work in your particular industry. And since my profession is internet marketing, there is an overabundance of people on these two sites who will make great contacts!
A few things to keep in mind as you are creating your profiles on these sites:
Be sure to add every site you are affiliated with, in order to increase potential visitors, page views, and customers
Update your page often, but try to add some pertinent professional information. In other words, write about more than your latest golf score
Remember that if you want to use these sites professionally, keep your pictures and content professional. People who don't know you outside of these sites won't get the best impression of your professional work if your page is full of party pics and images of you falling down drunk after a weekend bender
One word of caution to those of you who are just now getting involved in these social networking sites: They can be addictive! I guess since I work on the computer all day, I have traditionally preferred to stay in contact with my friends and family through the telephone and gasp! in person. However, I have to admit that I have thoroughly enjoyed catching up with old high school friends through their Facebook pages and blogs–I spent way too much time doing this over the weekend, in fact! You may want to reserve these networking sites exclusively for professional purposes in order to cut down on time wasting.
Now, excuse me while I try to find the page of my old high school crush to find out if he indeed married that cocktail waitress we all met on our senior trip…
About The Author