Nitrogen Generator, Nitrogen System, Nitrogen Gas Generator, Nitrogen Generation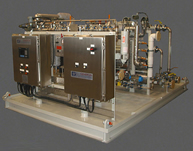 Generon Innovative Gas Systems is the world leader when it comes to Nitrogen Generator technology. Its Nitrogen generator systems are capable of producing inert Nitrogen that is 90 to 99.9% pure.
IGS Nitrogen generators come in several configurations, ranging from small cabinet generators to large scale integrated packages using both primary and post compression to provide a dependable supply of Nitrogen for any application.
Call IGS Generon at +1(713) 937-5200 to find out more about their Nitrogen Generators or request a quote directly on their website.